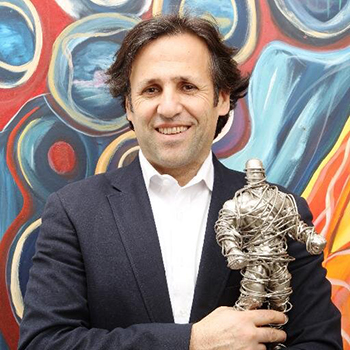 Roger de Tanios
Born in Beirut (Lebanon) on 30 March 1965; Currently living in Beirut (Lebanon); is a living proof that international legal advisors do not lack any talent for creativity.
Tutored by the French famous Artist, H. Torossian, and having lived and worked in more than 25 countries, de Tanios portrays in his paintings, sculptures and installations a vivid and colorful incarnation of the human nature in its worldwide dimension.
With a special interest for Contemporary Art, de Tanios has participated in different exhibitions in London, Paris, Milan, Cairo and Beirut.
De Tanios holds the Lebanese and French nationalities; he is today based in Lebanon and is an active supporter of Mediterranean Art and Artists.
Throughout his artistic journey, he has created the "Aychak Man"; a symbolic representation of the Middle Eastern "Macho Man and the way he considers women in general.
He started in 2014 an international tour where he is showcasing a special collection about this character in international exhibitions across London, Paris, Milan, Monte Carlo, Florence, Aix-en provence and Nice (france), Beirut , cairo, Vienna , Munich, Athens, Miami, Tokyo, Shanghai, Singapore , New York, Beverly Hills and in other cities under preparation, to witness once again to a deep appreciation of the beautiful interaction between civilizations
The "Aychak Man" represents the typical middle eastern "Macho Man" (or "JAGAL" in Lebanese) with all his emotional, prejudicial and mindset appraisals:
He is strong, sure, self- confident and showing off.
He is clearly adhered to the traditions through family and society, but claiming the American or European civilization mentality when it comes to dealing with women.
He considers himself as very open, modern and hip while he is old fashioned when it comes to the way he treats and considers women in general. In fact, he likes the old ways.
For him, the women always come second, for show only he will be always the first and the last to decide.
Nevertheless, he wants to be protective and generous as he will never accept to be supported financially by women.
Le opere di
Roger de Tanios

presenti in galleria