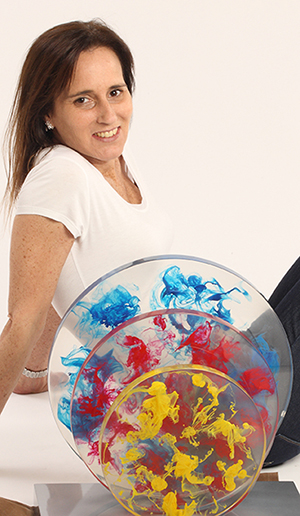 Ana Giovinazzo
Ana's artistic life began when she was 7, She attended a ceramics workshop where she made several pieces; It was there that she began to show her creativity and emotions. Due to her family being a traditional one Ana took up Foreign Trade studies but at the same time began artistic workshops with different teachers and realized how much she enjoyed her sculpture workshops.
Ana makes her pieces from beginning to end. She enjoys every single stage. She works hard at the sketch. She makes the cast for the different pouring and the inclusion of glass. Then, the time comes for the use of the electric machines Ana learnt to use: grinder, drills ,electric sanders, polishers, solders. Each step has a special charm for her She utterly enjoys going through the process. Therefore, the great physical effort it demands is forgotten along the way.
As a sculptor, she spent many years modelling clay, making plaster moulds and working resins with loads of different metals. It was then that she began to experiment with aluminum loads and transparent parts reaching in this way the definition of her current work:TRANSPARENCIES IN RESIN
Resin is a difficult but noble material. It can explode while solidifying thus wasting hours of work. It is in the challenges along the way that Ana finds the nobleness and potential of the sculptures.
Ana has organized her work since 2003 in different series: "Geometries", "The Universe and the Invisible", "Nature", and her current work " Emotional Outburst ". Her art could be defined as geometric pieces of pure and intense colours, with impeccable margins and shapes.
Ana has exhibited her work in Brazil, Uruguay, the United States, Monaco and Argentina, her country of birth. In Buenos Aires she has exhibited her pieces at Borges Cultural Center, Recoleta Cultural Center, arte BA and Expotrastiendas.
Le opere di
Ana Giovinazzo

presenti in galleria