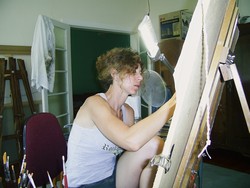 Jonel Scholtz
HAS WORKED WITH MG FROM 201 TO 201..
Project Ideas: 1)I would like to depict the different faces of women in South Africa. We are so diverse and still we all live together in this country. We have 11 official languages! Just an idea of how diverse we are. 2)I would love to visit Naples and depict the way I see the city and the people. 3. I love old world charm and the rooms/dwellings of these worlds. Europe is a treasure chest of "old-worldlyness". I have never been there, but would love to do a pictorial on the old houses and souls of these cities. I would do a photographic journal of this and then do my paintings from these photos and the feelings these dwellings left in my soul. I have this unique talent of "feeling" the rooms and the people that has been in them, even years before. 4. "I am a women with so many layers" – This would be a exhibition of women in their glory and "fall from grace" states. From laughing to crying – the equilibrium of opposites. We as women are a universal tribe throughout the world. We feel the same and understand each other. We gather strength from one another. "If you strike a woman you strike a rock". Exhibiting in galleries is South Africa throughout the year. The galleries are:
Alice Art Gallery in Johannesburg
Kunstehuijs Art Gallery in Swellendam in Western Cape
The Village Art Gallery in De Rust in the Western Cape
Chris Tugwell Gallery in Hartebeespoortdam in Northwest
2. Working with Wildlands Conservation Trust to save the Rhino in South Africa. Going to paint a rhino sculpture and have it auctioned. Money going to Rhino Conservation. The last quarter of the year.
3. Exhibiting at Decorex Johannesburg 6 – 10 August : A nationwide exhibition of decor relating merchandise. I have a stand there where I will exhibit my paintings. This is a very big and prestigious exhibition.
The works of
Jonel Scholtz

exhibited in the gallery