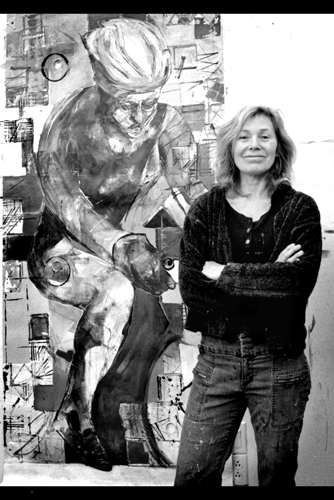 France Malo
HAS WORKED WITH MG FROM 201 TO 201..
Professionnal Membre: CARFAC-RAAV, MBA AIBAQ, CMAQ,.. ASSOCIE SNBA, MBA Institut des ArtsIEDAC, SASL, OFFICIER Academie Europenne Arts-Lettres-Philosophie AEALP,OFFICIER Mondial Art Academia France, Banque 1% Architecture, Banque CALQ, Worldwide Whos Who At the age of fifteen, MALO began to teach drawing, painting and ceramic classes in Quebec, Canada. From 1974 to 1978 she participates in 26 creativity oriented french's alliance television shows in Europe. Since this formative period, she studies Arts and Communication in different international universities and contexts wich led her to a multidisciplinary career in visual arts. MALO developped multiples series; drawing, painting, glass, ceramic and sculpture belong to her creative register. Recognized as a Master in Fine Arts by international artistic associations, "she explores and excavates the matter in the search of a significant esthetism which wants to be to be a lucid witness of the prints left by humanity in the heart of the men. In her art she seeks to plastically translate the hopes and contradictions of the human nature through sets of forms and lines where the color plays a crucial role." Renowned for human groups interpretations, her artistic production reflects a contemporary vision of the technological, environmental and sociological phenomenas of this time. MALO developped an important sportive direction in her paintings since 2008: very active as a performer painter in sports events, many accomplished athletes received original paintings from MALO. Selected artworks are reproduced on sport's garments by Quebec designers since 2010 (APOGEE SPORT, KSL). * Galerie Contemporaine France 2012
SPORTS in ARTS - ARTS in SPORTS
"The expression of beauty in a physical performance human body evoque the survival effort for life and gives me this surprising sense of balance in creation." MALO Knownwed as a "précurseure" in cyclism and other sports **, MALO's important mission as a contemporary artist is to add up a "Fine Arts sensibility" in today's sportive's world and a sport's interest in the actual Fine Arts development. "Human indubitabily need to stay healthy and alert in this fast moving world: challenging my athletes is both a ludic and a prolific artistic experience." MALO Energy and balance between body and spirit are fundamentals in sport. Social notions as childhood, friendship, community, liberty, performance, security and consciousness are alternatively explored in the artist sport's realisations. * "Une précurseure..." Caroline Bruens Présidente AIBAQ 2013 * "En tête du peloton" Robert Bernier Revue Parcours vol 15 no. 4 mai à mars 2011
Honors
In honor of "Outstanding Professional Excellence and Dedication to the promotion of sports in arts and arts in sports she received in 2013 the "ARTISTE DE L'ANNÉE 2013-2014" title * from the Académie internationale de Beaux-Arts du Québec, the VIP of the Year / TOP Female Executives and ELITE from the Worldwide Who's Who." * Numerous honors, medals and prices have been received by MALO in her carreer. * Worldwide Who's Who 2014
SHORT RESUME
EXHIBITIONS ( SOLO 2013-2014 ) ( Group 2005-2014 )
SOLO 2011-2014 HUMANIME 1 SOLO EN DEUX LIEUX Galerie Ève Fontaine Saint-Hyacinthe 27 mai au 17 juin 2012, HUMANIME 2 SOLO EN DEUX LIEUX Bureau du Tourisme et des Congrès de Saint-Hyacinthe 27 mai au 17 juin 2012, HUMANIME 3 Maison des Arts et de la Culture de l'Ancienne-Lorette 8 au 31 juillet 2012, HUMANIME 4 CYCLO-TOURISME Centre d'Exposition ARTO 7 sept au 2 octobre 2012, HUMANIME 5 Galerie Renée-Blain Brossard 17 novembre au 11 décembre 2012, HUMANIME 6 POINT D'ÉQUILIBRE Carrefour Culturel Paul-Médéric Baie Saint-Paul 12 avril au 3 juin 2013, HUMANIME 7 ACTION-RÉFLEXION Maison de la Culture VILLEBON Ville de Beloeil 1er au 27 mai 2013, HUMANIME 8 DYNAMIQUES HUMAINES Corporation du Vieux Palais Ville de Amos 10 juillet au 30 septembre 2013
PERFORMANCES- SOLO SPORT EXHIBITIONS: LES VÉLOS DE MALO Vélo-Québec Montréal 2013LE SPORT S'EXPOSE Eastman mai à septembre 2013, Tour L'ÉCHAPPÉE BELLE 2014,Tour Cycliste LA MONTRÉALAISE 2014, GRAN FONDO Mont St-ANNE 2014. IRONMAN TREMBLANT 2013, Salon Info-Vélo Québec et Salon du Vélo de Montréal- Galerie de la Capitale 2011-2014, COUPE DIX/30 2011-2013...
GROUP More than 200 group exhibitions in Canada, United States and Europe from 1984: GLORIEUX Musée du Bronze d'Inverness mai à octobre 2014, CIRCUS Musée du Bronze 2013, Galerie UNO Québec 2013-2014, YUL ART... Galerie Exhib-2012 à 2014, Salon National des Beaux-arts de Paris décembre 2012-2013, EXPOSITION des MAÎTRES Maison des Arts Desjardins Drummundville 2013, Galerie Brenart Bruxelles 2012, SIDIM 2012, Institut Canadien de Québec, FIMA Festival International des Arts de Montréal 2011, Musée des Beaux-Arts de Mont St-Hilaire 1997 à 2011, Toronto Art Expo 2010...ST'ART 2005 Galerie Beringo Fine Arts ...
Symposiums in Canada: Rendez-Vous des Arts Saint-Jean-sur-le-Richelieu 2014, Festival de Mascouche 2013, Symposium Baie Comeau 2013, Arts et Jardins Boucherville 2013, Artistes sur le champs Chambly, Festival de peinture de Mascouche 2013, Gatineau en Couleurs, Symposium du Haut-Richelieu 2008, Carleton-sur-mer 2009, Rendez-vous des artistes NB 2011-2012-2014, Kingston Art Fest Ontario 2012..Circuit d'artiste FUGUE en ART MAJEUR 2004-2014
Les œuvres de
France Malo

exposées dans la galerie