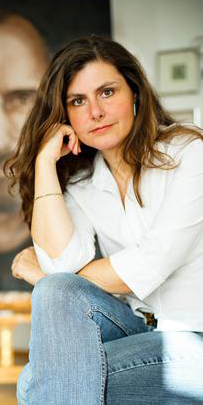 Ioanna Terharn
HAS WORKED WITH MG FROM 201 TO 201..
born in Greece and raised in Germany. She holds a degree in Economics and now devotes herself to painting and to photography, her passion since childhood. Ioanna's portfolio includes realistic and abstract paintings, oil on canvas and wood. As well as monotype prints.
Terharns recent work transcend and transforms pre-existing art, mainly historical photographs through appropriation art. The artist's goal is to vitalize and eludicate the original creation, bringing about recognition and memorance.
Ioanna Terharn's intention is to increase awareness of contemporary art through secondary metamorphosis of her initial work. Transformation of her own primary work creates new cover versions with new predicates, illustrating how changing times can produce "distorted views" of art as such.
"Contemporary art is not limited to painting on canvas – a diversity of media are required to express endless interpretations of art", states Terharn to highlight that art will give birth to new art, as often as we allow to use appropriation.
Transposing parts of facial characteristics in Terharns work, is a concious effort to obligate the observer to engage with the artist's intention.
It remains to the observers mind to find all elements needed to rediscover the original.
Since 2001, Ioanna Terharn's work has been shown in exhibitions, galleries and museums in several countries. Awards
In November 2012, Terharn received the 16th Goddess Artemis Award from the Euro-American Women's Council presented by Congresswoman, Carolyn Maloney and Loula Loi Alafogiannis in Washington DC.
The works of
Ioanna Terharn

exhibited in the gallery