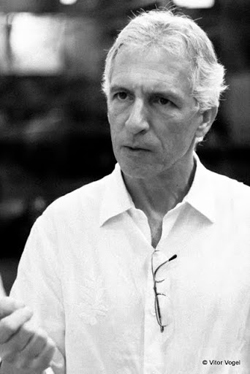 fernando braune
Visual Brazilian artist exhibitions in Rio, London, New York, Lisbon, Florence, Barcelona,.. fascinated by people and their environment, he aims to decontextualize the modern day realities constructed by the cultural, social and psychological tides of territory and belonging. Working at the edge of the delineation between tradition and contemporary art, he realizes multi-layered images with a 3D effect and a strong feeling of space and movement. The purity of the intense colours he lays over his compositions in black and white and the graphic clarity of each image give his works a power to topics within a vibrant image that nevertheless retains a dynamic connection with the real world. Winner of the Special Lega Navale Naples award in the Contest Prize for Contemporary Art 2014, he has participated with the gallery in Nice in the exhibition dedicated to Cinema and Jazz and will be represented by MG in the upcoming fairs in Nice and Mulhouse. Braune is working on an on going Project in a slum in Niterói - Rio de Janeiro. It is an orchestra comprised of Young people who live in the community and has low conditions but great passion for classical music. The 50% of the sellings is donated to the Project. Author of the books " Surrealism and the Aesthetics of Photographic", "Cinema and the Photographic Language" et "Temporalis"
The works of
fernando braune

exhibited in the gallery

ELEMENT I From the series Elements of Transition Photo worked by hand on Hannemuller paper 90 X 100 cm

...