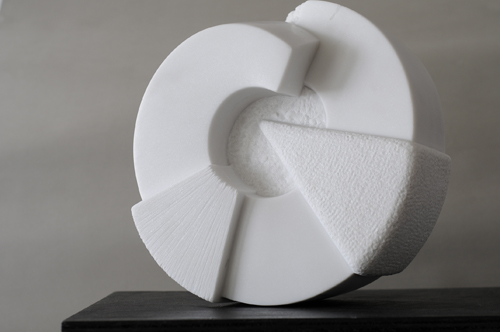 maud
HAS WORKED WITH MG FROM 201 TO 201..
After training in 1980 with the sculptor Mr Wall and between 1994 and1996 with the sculptor Mr Fachard, she works as an independent... Member CNFAP French National Council of Plastic Arts she realizes the Trophy 2000 of the annual Festival du Rire of Rocquencourt (78) her works are in symbolic/abstract style in different marbles, stones and wood.
Dominique Chapelle, President of Art in Capital in 2011, President of the Société des Artistes Indépendants Grand Palais and Founder of the Fédération nationale de la Culture Française writes: "Let's discover with pleasure the hard work of this artist. Inspired by contemporary, MAUD transposes with great sincerity her universe, and her traveller soul. From the raw material she generates creativity with elegance, remains a strength and personality of this beautiful authentic sculptor. She looks, she sides, she shapes, and sometimes caresses smoothly with relevance the stones, the marble but also the wood and reveals in all the simplicity but yet a rigorous and thoughtful work, her stylized topic structured wish. Guided by knowledge, by her mastery and her emotions, the work materializes with modernity and moves gracefully in the space. Quality work that combines lightness with strength, intelligence and femininity. It emerges from her sculptures an innate aesthetic that deserves the attention of collectors. "
The artist is present in private collections in Belgium, France, Poland, Switzerland, USA.
Award Signature 1998
Bronze Medal French Artists in 1998
Bronze Medal Arts Science and Letters 1998
And many awards in other exhibitions
Group exhibitions in Paris and abroad
Salon des Artistes Français- Salon d'Automne - Salon Comparaisons - Académie de Lutèce - Cercle de la Mer
Berlin, group exhibition in Reinhardt Galerie (june 2014)
Pékin, group exhibition musée d'Art Moderne (may 2014)
Has paricipated to a group exhibition in Rome in 2011 and to Tel Aviv Art Fair
Other: Brecey, Caen, Evian, Garches, Honfleur, La Baule, Montfort l'Amaury, St Arnoult en Yvelines, Seraing (Belgique), Sarria (Espagne).
In 2013 the artist has exhibited her sculptures with the gallery in the Project Black & White on the occasion of the Affordable Art Fair in Brussels and successively in Paris at the Voutes Art within the Project Cities of Europe. MG will represent her works at the International Art Fair ST-ART Strasbourg 2014
The works of
maud

exhibited in the gallery