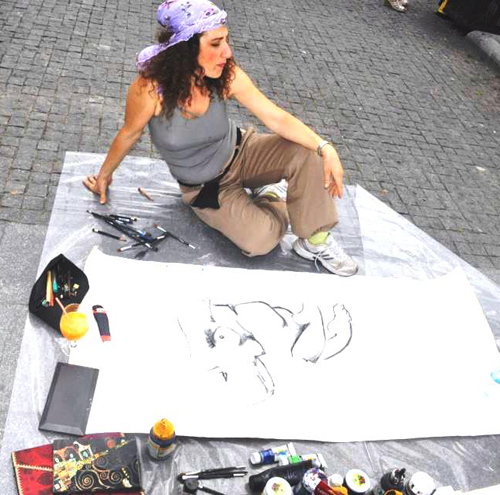 Ayla Aksoyoglu
HAS WORKED WITH MG FROM 2012 TO 2013.
She was born in 1968 in Ankara , She started to do small sculptures and paintings 6-7 years old, she was interested in sport, music and art until University... She graduated from faculty of art at Gazi Universty. She permanently wenton working drawing. She visited many museums in France and also she watched the process of art exhibitions at galleries.Her fırst personal exhibition was opened in 2006. it was so good that it was exhibited in 32. DYO ART CAMPETİTİON and 2007 68. NATİONALE PAİNTİNG AND SCULPTUR .. She had 15 personal exhibitions at home and abroad, And also she participaited in mix-exhibitions. She is writing in some art magazin in turkey, about art.
She is member of PLASTİC ARTS CLUP OF BLACK SEA, UNITED PAINTERS AND SCULPTORS ASSOCIATION. She uses traditional Türkich carakters, colours and deformation effectively in her paints.. She travel and drowing allvays. She working in her studio.
SOME OF İNDİVİDUAL EXHİBİTİONEN
2010-galeri art'est PARİS FRANCE
2010-outside municipal gallery PRİZREN – KOSOVA
2010-Nude And Prejudice GALERY ARTİST İSTANBUL TURKEY
2009-Ziraat Bankası Kuğulu Gallery Ankara Turkey
2009-Portraits Exhibition Fırça Art Gallery ANKARA TURKEY
2008-Ticaret Ve Sanayi Odası Galerisi TRABZON TURKEY
2008-TRABZON Fine Arts Gallery TURKEY
2008-ANKARA Çankaya Gallery TURKEY
2007-TRABZON Mahmut Goloğlu Art Gallery TURKEY
2006-Hüseyin Kazaz Culture Center TRABZON TURKEY
MIXED EXHİBİTİONEN
2012-3.Cultur – Art Meeting, SCOPE, NEGOTİNO MACEDONİA
2012-Europen City Projeckt, Contemporary Art Fair BERLİN-GERMANY
2011-8.Bienale Of Florence FİRENZE-İTALY
2012-Surviver 1-2 FLORENCE İTALY
2012-Florence Slow Desing Art İTALY
2011-Tuyap Artist Fair Turkey–İSTANBUL TURKEY
2010-CANADİAN AMBASADOR EXHİBİTİON-1
2010-CANADİAN AMBASSADOR EXHİBİTİON -2
2010-Brhd 40. Years Exhibition İn ANKARA
2009-Plastik Arts Clup Of Blacksea 4 ANKARA
2008-Plastik Arts Clup Of Blacksea 3 ANKARA
2008-Artforum Ankara 4. ART FAİR
2008-Brhd 38.Years Exhibition ANKARA ART MUSEUM
2008-Plastik Arts Clup Of Blacksea 2-İSTANBUL
2008-Kolajname 1–Gallery Altan ADANA TURKEY
2008-Kolajname2-ANTAKYA–MERSİN TURKEY
2007-Artforum Ankara 3. Art Fair TURKEY
2007-68. State Art Exhibiton -İZMİR TURKEY
2007-Trabzon Traditionale Exhibitions TURKEY
2007-Plastik Arts Clup Of Blacksea -1 TRABZON TURKEY
2006-Dyo 32.Art Exhibitionen İSTANBUL–ANKARA–İZMİR-TRABZON-HATAY CİTYS -TURKEY
2005-Trabzon Municipality Exhibition TURKEY
The works of
Ayla Aksoyoglu

exhibited in the gallery