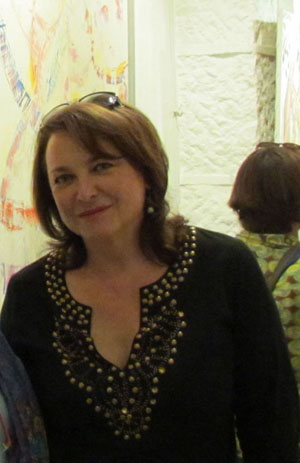 tatiana koltchine
Born in Moscow, Tatiana has traveled and lived around the world, spending a part of her life in the Middle East and finally settling in the South of France...
Tatiana paints and sculpts in "Le Hangar" - Atelier des Beaux Arts de l'Association International de Luc Veger, situated in Chateauneuf-de-Grasse on the Côte d'Azur. For many years she has been studying under the guidance of sculptors Francine Van Dongen and Alain Saunders of the Chichester Universtiy College and the well known

"Inspired by her diversified culture, Tatiana expresses her strong emotions through both sculptures and paintings. The intensity of her work is probably due to her Slav origins. Each piece is full of energy and enthuse a myriad of feelings to the observer. Whether she is depicting anger and distress or serenity and bliss, her work is always full of grace and mesmerizes the eye. Her paintings are characterized by soft, elegant lines, daring strokes and bold use of colors. Her sculptures are very feminine with harmonious, sensual, expressive shapes, reflecting elements of classicism mixed with influence of the Russian Avant Garde. All of it captivating in its harmony."
The works of
tatiana koltchine

exhibited in the gallery