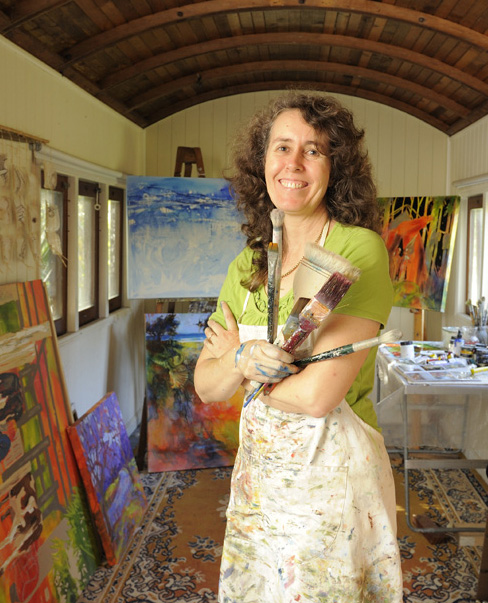 julie wecker
HAS WORKED WITH MG FROM 201 TO 201..
I am a Queensland born, Australian artist. I paint what I love…. Australian beaches, Tuscany and lately, everyday things that have their own beauty that we often overlook.
Art is an expression of our Heart's understanding of LIFE. I believe it has power to transform lives. Perhaps more important, I believe that art is capable of engaging and enriching the spirit. It bypasses the intellect and touches the depth of our souls.
I work in my studio, a converted railway carriage in Redcliffe on the northside of Brisbane. My work is represented in galleries on the Sunshine Coast and locally. My work is in the collections of the Redcliffe Museum and Moreton Regional Gallery.
Name Julie Wecker
Born Atherton, Queensland, 1962...
Education
2004 Bachelor of Education, QUT (Printmaking, Sculpture, Painting & Drawing)
1982 Diploma of Teaching (Secondary), Kelvin Grove C.AE
Public Collections Moreton Bay Regional Council
Redcliffe Museum
Awards
2011 FINALIST Moreton Bay Region Art Awards
2010 FINALIST & MERIT PRIZE Moreton Bay Region Art Awards
2009 FINALIST Moreton Bay Region Art Awards
2009 Peoples Choice Award, Zonta, 'Hear Me Roar' Exhibition
2008 FINALIST & ACQUIRED, Pine Rivers 16th Annual Art Awards
2008 First Prize Seascape, RAS Members Exhibition
2007 OVERALL WINNER, RAS Members Exhibition
2007 Second Prize, Mixed Media, Redcliffe Show
1996-2006 9 other art awards
Recent Exhibitions
2011 '5 Artists= 25 Artworks', Galleria Monteolivetto, Naples, Italy
2010 'Suburbia',Redcliffe City Gallery, Redcliffe
2010 Artists Afloat, Matthew Flinders Gallery, Bribie Island
2010 7 Journeys, Graydon Gallery, New Farm
2010 Rotary Art Spectacular, Brisbane
2009 Artists Afloat –Mojocreations Floating Gallery, Redcliffe Jetty, Qld.
2009 'I Am', Studio 13, West End, supporting Women's Legal Services
2009 Rotary Art Spectacular, Brisbane
2008 Four of a Kind, Oriel Gallery, Ascot
2008 Rotary Art Spectacular, Brisbane
2007 15 Artists, Redcliffe City Gallery
2007 Visions, Redcliffe Museum
Professional Activities
2009-2011 Secretary, Artists Afloat Inc.
2009-2011 Adult Art Teacher
2008-2009 Secretary, Redcliffe Art Society
2006-2007 Exhibition Manager, Redcliffe Art Society
2004 Children's Art Teacher Commissions
2007 Redcliffe Historical Society and many private commissions
Grants
2010 & 2005 Moreton Bay Regional Council R.A.D.F. Grant
Workshops Attended
1996-2010 Lyne Marshall, Herman Pekel, Don Waters, George Hazzard, Colley Whisson, Lucja Ray, Terry Bouton, Barry Kidd, Clayton J. Beck, Stella Pearse, Jenni Kelly, Judy Pomroy, Louise Corke, Todd Whisson, Graham W. Smith, Robert Andrews, Cheryl Nugent, Chris Blake

Professional Queensland Artworkers Alliance Inc.
Memberships Artist Afloat Inc
Le opere di
julie wecker

presenti in galleria