News from the gallery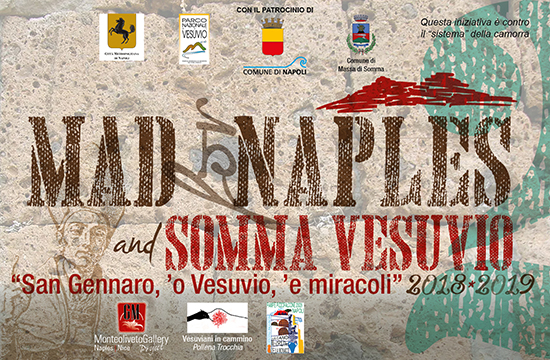 Latest news
lausanne art fair 19-22-4-2018
Salon international d'Art contemporain
22artistsMadforNaples ... and also Mad for Pollena Trocchia
17/06/2014

...AND ALSO MAD FOR POLLENA TROCCHIA

Pollena Trocchia a commune in the area of the Mount Vesuvius will sponsor our project and will offer to the participant artists the possibility of staying 2 days of their personal project period in the wonderful area of the Somma-Vesuvio that will surely catch their sensibility with sites and situations able to stimulate their Art, leaving in them unforgettable memories that will travel through their words and their works and spread in Europe and in the whole world.
Officially declared a national park on June 5, 1995, the Vesuvius with its small network of paths consists of a large cone partially encircled by the steep rim of a summit caldera caused by the collapse of an earlier and originally much higher structure.
The associations (1) of this area have greatly appreciated our project and sponsorize the idea within their cultural project "Let us start again from Culture and Territory to build a better future".

All artists participating in the project 22artistsmadforNaples will thus have the chance during their stay in Naples to live 2 days in full immersion in the nature of the area of the great national park of the mount Vesuvius in a bed and breakfast on the Vesuvius area and a guide to do guided excursions in the site. And also appreciate local products and wine degustations in the area.
ALREADY SELECTED ARTISTS:
Milagros BENTIN (Perù): June 2014
Andrea HARRIS (USA): August 2014
Josie LOWERSON (Australia): September 2014
Sarah MUNRO (New Zealand): September - October 2014
Graciela MONTICH (Argentina): October 2014
Marie HERTZBERG (Sweden): May 2015
Olga ANTONENKO-LAMOUREUX (Ukraina/France): June 2015
Juliana CHAKRAVORTY (France): Septembrer 2015
Malin FORSBERG (Sweden): novembre 2015
--------------------------------------------------------------------------
RIPARTIAMO DALLA CULTURA E DAL TERRITORIO PER COSTRUIRE UN FUTURO MIGLIORE
"Ascoltando i Bambini" Istituto di Cultura e Formazione - Pollena Trocchia
Apolline Project - Pollena Trocchia
Pro Loco "Gaetano Donizetti" - Pollena Trocchia
Club House Artisti - Pollena Trocchia
Associazione "Paolino Avella" ONLUS
Associazione "Liberi Pensieri" - Pollena Trocchia
Associazione "Trekking Napoli" - Pollena Trocchia
Agriturismo "La Vigna" - Pollena Trocchia
Olga ANTONENKO-LAMOUREUX (Ukraina/France): June 2015
Download:


articolo POLLENA Il Mattino 24 agosto 2014 .jpg


01milagrosbentinPollena01








02andreaharrisPollena01








02andreaharrisPollena02








03JosieLowersonNaples






04SarahMunroPollena01








04SarahMunroPollena02







04SarahMunroPollena03








04SarahMunroPollena04







04SarahMunroPollena05








04SarahMunroPollena06








04SarahMunroPollena07








04SarahMunroPollena08








04SarahMunroPollena09








04SarahMunroPollena10








05 GracielaMontichPollena01








05 GracielaMontichPollena02